Vegan Tours and Accommodations
Traveling as a vegan doesn't mean having to go without healthy, hearty meals and snacks anymore. Nor does it mean having to stay in accommodations where the the smell of animal foods pervade or having to prepare your meals in non-vegan kitchens.
Here's a growing list of vegan and vegan-friendly tours, excursions and accommodations throughout the world. Any suggestions of what to add to the list? Feel free to send it my way!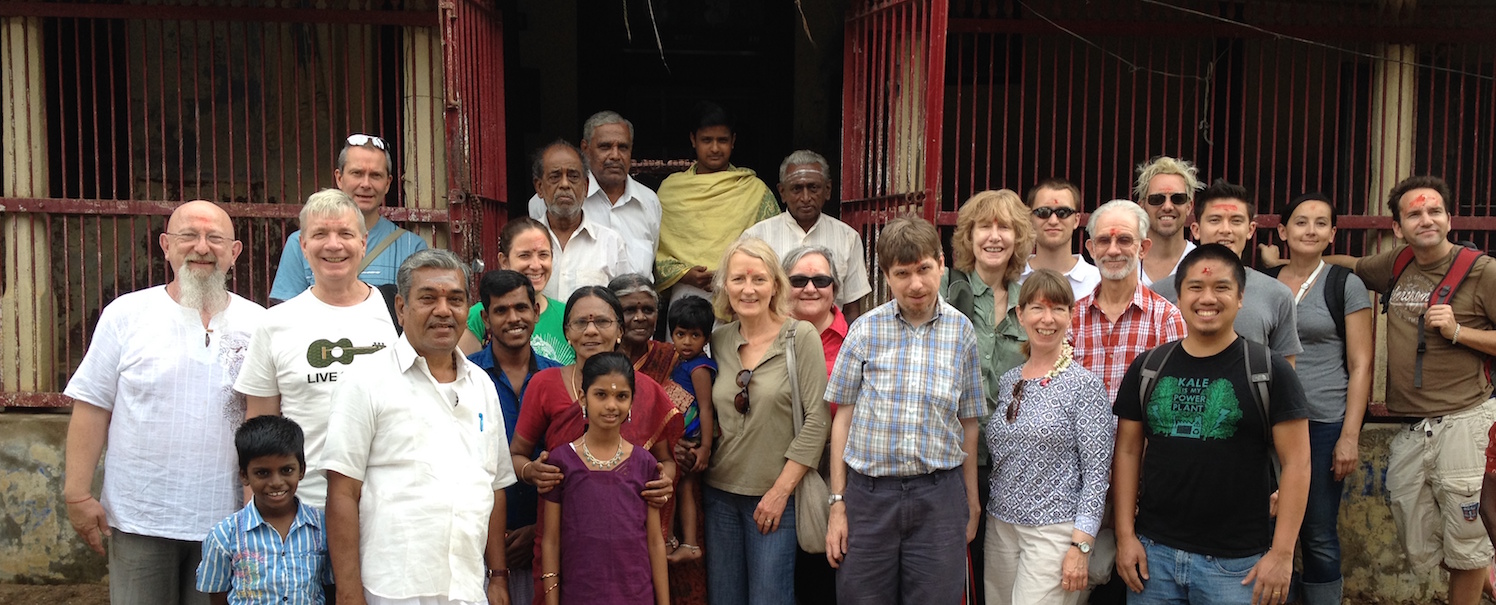 VEGAN TOURS
Samsara Vegan Travels
Package tours for vegans
info@samsaravegantravels.com
+31 636 51 54 27
Veg Jaunts and Journeys
Organizes vegan tours for small groups of like-minded travelers and provides travel agency service to help you plan your vegan vacation.
kim@vegjauntsandjourneys.com
+1-774-269-6558
VegVoyages
Vegan tour groups and cultural immersion in India, Nepal, Sri Lanka, Malaysia, Thailand, Laos, Sumatra, and Bali.
+1-877-834-8692; WhatsApp: +512 966 8206
ACCOMMODATIONS

USA
Vegan- Friendly
Pebble Cove Farm
Waterfront inn and organic farm on four beautiful acres overlooking a private, peaceful cove.
Perfect spot for a romantic get-away — or a family get-together.
3341 Deer Harbor Road, Eastsound, WA 98245
+1 (360) 622-6460
pebblecovefarm@hotmail.com
Ye Olde Manor House
N7622 US 12, Elkhorn, WI 53121
+1 (262) 742-2450
Boutique bed and breakfast on 3 landscaped acres featuring 8 guest rooms with private baths and an indoor heated swimming pool. Vegan breakfast options served every day.
The Gray Barn
High Falls, New York, USA
+1-845-247-5700
Boutique inn at Woodstock Farm Sanctuary offers accommodations in five bedrooms, each with its own en suite bathroom and private terrace. Overnight gu…

The Ginger Cat B&B
Rock Stream, New York, USA
+1-607-535-9627
Vegan bed and breakfast nestled on 15 wooded acres few miles northwest of Watkins Glen, minutes from Farm Sanctuary.

Sundogs Bed and Brea…
Shepherdstown, West Virginia, USA
+1-703-581-9805
An animal-friendly and eco-friendly country retreat on 46 secluded acres. The house features 5 luxurious sun-filled rooms, and guests are served gourm…

Someday Farm Vegan B…
Freeland, Washington, USA
+1-360-331-2864
Relax and rejuvenate and enjoy the peace and quiet of its seventy acres on Washington's South Whidbey Island. Amenities include full kitchen, Wi-Fi, f…

Sewall House Yoga Re…
Island Falls, Maine, USA
+1-646-316-5151
Personalized yoga retreat in a historic B&B near hikes and lakes. All levels welcome. Relax, renew, be nurtured. Yoga/meditation teacher since 1985. M…

Pirate Palms Plant-C…
Naples, Florida, USA
+1-239-273-9824
A plant-centered retreat and culinary school on 3 acres of tropical setting. Offers a private villa with amenities including bathroom, washer/dryer, s…

Pebble Cove Farm Inn
Eastsound, Washington, USA
+1-360-622-6460
Waterfront accommodations on a 4-acre farm where guests enjoy a private beach, company of rescued farmed animals, "you pick" organic garden, row boat,…

Old Caledonian Bed &…
Caledonia, Missouri, USA
+1-573-779-1300
Vegan b&b in a historic home on 4 acres with pond, gazebo, and walking path. Included in stay is a chef-prepared vegan breakfast of items like fluffy …

Micanopy Haven
Micanopy, Florida, USA
Vegan estate boasting 3 stories, 6 bedrooms, and 3 bathrooms on secluded 15 acres. Features swimming pool, meadows, walking trails, lake view, majesti…

Lilac Inn
Brandon, Vermont, USA
+1-802-247-5463
Nine room bed and breakfast and wedding venue. Will provide vegan breakfast for staying guests. Please specify upon making a reservation.

La Colina Linda B an…
Cobden, Illinois, USA
+1-618-967-8958
Bed & breakfast cottage with two bedrooms-baths on one-acre organic farm and forest orchard-garden on Shawnee Hills Wine Trail. Vegan plant-based brea…

Isha Institute of In…
Mcminnville, Tennessee, USA
+1-931-668-1900
Upper Cumberland retreat offering wellness retreats and outdoor recreation just 45 minutes northwest of Chattanooga and 2 hours southeast of Nashville…
Haskell's House
Fort Lauderdale, Florida, USA
+1-954-525-4522
Charming 1930s clapboard house enveloped in tropical foliage. Offers room for rent, with a minimum stay requirement. Please visit its webpage for book…
A.G. Thomson House
Duluth, Minnesota, USA
+1-218-724-3464
Experience traditional Midwestern hospitality at this vegetarian bed & breakfast in the historic Congdon Mansion District, just minutes from downtown,…
WholeWay Home
Offers vegetarian homestay with 4 private rooms and kitchen privileges in a private home. Rent the entire duplex or by the room. Raw food coaching available.
Las Vegas, Nevada, USA
Whisper's Ranch
Bed and breakfast in the Elgin wine country with an attached animal sanctuary.
Elgin, Arizona, USA
Wattle Hollow Retreat Center
Small retreat center on 40 acres of woodlands on a mountainside in Northwest Arkansas.
Fayetteville, Arkansas, USA
Velo Bed and Breakfast
Organic B&B located outside Eugene on lovely wooded acreage in the heart of wine country. Serves vegan breakfast and dessert.
Eugene, Oregon, USA
Veganbnb
A 5-bedroom house on a quarter acre. Can provide pet services, licensed body energy healing, vegan meals, vinyassa yoga workshops, shamanic sound healing workshops, and full moon meditation workshops. Call for info.
White Plains, New York, USA
Vegan Vessel SV Breta
Vegan-owned land-yacht available for up to 3 guests. Details and booking: https://www.airbnb.com/rooms/2643936
Harbor, Oregon, USA
Vahimsa
Vegan "off the grid" campground consisting of 45 acres, offering tent and RV camping in a woodsy setting. Call ahead to make reservations. Also known as a local vegan hub for potlucks and special events. No animal bi-products are permitted on the property.
Shamokin, Pennsylvania, USA
Turquoise Barn
Offers group workshops & retreats in the Catskills on an organic farm. House available to rent for vacation.
Bloomville, New York, USA
TrueNorth Health Center
-
A residential health center specializing in water fasting, with a fully vegan kitchen. Note: Only open to guests staying here. Non-guests cannot dine in.
Santa Rosa, California, USA
Trimmer House
Non-veg bed and breakfast where the owner has a grasp on food prep for vegans and can provide as requested.
Penn Yan, New York, USA
Thyme and Tide Bed and Breakfast
Relaxing retreat on the north Oregon coast with two guest rooms featuring ocean views.
Oceanside, Oregon, USA
The White Pig Bed and Breakfast
A vegan/vegetarian retreat located 23 miles south of Charlottesville in the scenic town of Schuyler.
Schuyler, Virginia, USA
The Wellness Spot
Offers women's retreat for detoxification and spiritual renewal. Serves guests vegetarian food.
Richmond, Maine, USA
The Vegan Om House
Studio cottage on Gardner Mountain with easy access to hiking and biking. Guests are provided vegan snacks and a vegan breakfast basket. Kitchen is equipped with a vitamix and instant pot. Booking is via Airbnb.
South Lake Tahoe, California, USA
The Stanford Inn by the Sea
Eco resort featuring 41 guesthouse rooms, an indoor pool, organic farm, holistic wellness center, and an onsite vegan restaurant, Ravens Restaurant.
Mendocino, California, USA
The Iris Inn
Will provide plant-based breakfast with advance notice.
Waynesboro, Virginia, USA
The Homestead Guesthouse
Catskill Animal Sanctuary offers overnight stays in this restored, early 1800s-era guesthouse which features original wide-plank floors, exposed brick walls, and fireplaces. Vegan breakfast served.
Saugerties, New York, USA
The Golden Guernsey Barn and Breakfast
A pescatarian bed and breakfast which offers vegetarian meals. Check their website for more information, including a list of activities and events.
Cochecton, New York, USA
The Expanding Light Retreat
Meditation, yoga, personal retreat, and karma yoga programs. Vegetarian meals.
Nevada City, California, USA
The Bel Air Treehouse
House in Holmby Hills operating as a vegetarian boutique hotel. The property has 4 suites, each with its private bath. Yoga is offered for free to hotel guests. A bio-dynamic continental breakfast is included with room rate. Dinner on request for guests, non-guests by appointment only. They primarily serve vegan meals, but they do offer honey.
Los Angeles, California, USA
The 400
B&B in the Brookside neighborhood. Non-veg but owner is aware of all types of dietary requirements and will make accommodations for those with specific needs.
Kansas City, Missouri, USA
Snug Hollow Farm
Vegetarian bed and breakfast on 300-acre farm. Provides breakfast, lunch, and dinner by reservation. Call to reserve.
Irvine, Kentucky, USA
Shady Hollow Inn
Housed in a historic Cape Cod sea captain's home built in 1839 and serves a vegetarian breakfast; vegan upon request.
South Dennis, Massachusetts, USA
Shady Grove Farm
Small hay farm with large trees, ponds, gardens, and rescued animals add to the tranquil setting. Choose the private B&B suite with organic vegan breakfast; a private studio with kitchenette; a one bedroom cottage with full kitchen; or the glamping tent in summer. Breakfast is only included with the B&B suite.
Talent, Oregon, USA
Self Discovery Center
Historic brick home bed and breakfast. Hosts cooking classes, discussion groups, kirtan, yoga, & meditation.
Atlanta, Georgia, USA
Rosemary House
A gracious 1912 Colonial revival B&B listed on the National Register of Historic Places. A full vegetarian breakfast is served from 7-9am in the dining room, at the time of your choosing. Vegan options available upon request.
Pittsboro, North Carolina, USA
Red Robin Song Guest House
Bed and breakfast on the New York side of the Berkshires. Serves all vegan breakfast and share the home with rescued farm animals and wildlife.
West Lebanon, New York, USA
Rasayana Cove Ayurvedic Retreat
25 acres of pristine woodlands bordering wilderness Horse Creek.
Ona, Florida, USA
Portland Eco House
House with two bedrooms available for rent and kitchen for guests to use. Provides complimentary organic fair trade coffee, coffee substitute, and tea with non-dairy milk or creamer in the fridge. Previously named Portland Vegan Guest House.
Portland, Oregon, USA
Peaceful Meadows Bed & Breakfast
B&B near Mesa Verde National Park and the Four Corners area. Guests are served vegan breakfast.
Mancos, Colorado, USA
Park Lane Guest House
Offers vegetarian breakfast.
Austin, Texas, USA
Nickeys' Nest
Open April through October. Country retreat house on 20 acres featuring a lake with island, small tree house for the kids, salt water in ground pool, organic garden, and rescued animals (dogs, cats, chickens, ducks, guinea fowl, goats). The owners make vegetarian and vegan meals for the guests.
Paris, Texas, USA
Morriplum Farm Sanctuary & Retreat
Hillside glamping tents for retreat or vacation. Down the hill is a small private farm sanctuary providing refuge to rescued animals. Breakfast is available to solo retreat guests and meals are available to groups. Meals are vegan with optional egg from the sanctuary chickens.
Medford, Oregon, USA
Mint SoulVegan
Vegan-owned house located at an hour's drive north of Tampa. Check webpage for booking & info.
Brooksville, Florida, USA
Mandala Springs
Wellness retreat center. Can provide guests organic plant-based food, including the use of fruits and vegetables sourced from its own garden and orchard.
Cobb, California, USA
Mandala Retreat
Eco-vegetarian, substance-free retreat center & campground.
Cobb, California, USA
Lotus Mountain Retreat
Vegetarian retreat where each room is named using positive affirmations and have mountain views from the balconies. Offers yoga, message, hot tub, sauna in a TV-free natural environment. Reported no longer fully vegan Jan 2019.
Bolton Valley, Vermont, USA
Loft on a Lake
Vegetarian bed & breakfast by the water. Guests can watch the sunset and the variety of birds, or take the free shuttle to South Padre Island that's 25 miles away. Breakfast is included in stay, vegan or vegetarian.
Brownsville, Texas, USA
Lang House
Inn where staying guests are offered breakfast. Non-veg, but will provide vegan food with advance notice.
Burlington, Vermont, USA
Kirpal Meditation and Ecological Center
KMEC is 1/2 mile from the ocean on the eastern tip of the Big Island. It offers cozy cottages, bunk house, and community kitchen and baths. Available for meditation, gatherings, and healing. Starting at US$30 per night per person. Reported open, Apr 2019.
Pahoa, Hawaii, USA
Junebug Lodge
Vegan lodging with micro-sanctuary for rescued domestic ducks and chickens located on 135 acres with trails, pond, and fire pit. Offers 3 units in the main lodge plus an assortment of minimalist accommodations like tiny houses and glamping a-frames. Check website for availability.
Beaver Dams, New York, USA
Johnstone Adventure Lodge
A fly-in only remote lodge that offers accommodation in chalets. Offers plant-based dining (vegetarian, vegan, or pescatarian) or self-catering option.
Seward, Alaska, USA
Indralaya
Camp on 78 acres offering yoga, meditation, family camp, and other programs. Visitors sleep in simple cabins warmed with wood burning stoves and are served vegetarian meals in a communal dining hall.
Eastsound, Washington, USA
Hawaiian Sanctuary
Permaculture farm and eco-rejuvenation center offering accommodations, retreat experiences, internships, and educational events. Kitchen is vegetarian.
Pahoa, Hawaii, USA
Harvest Moon
Classic 1835 Vermont farmhouse, vegetarian continental breakfast.
Rutland, Vermont, USA
Grateful Meadows
Non-profit animal sanctuary and event venue offering retreats and B&B.
West Point, Virginia, USA
Golden Green Hotel
Eco-friendly hotel located in the vicinity of downtown Charlotte.
Charlotte, North Carolina, USA
Gentle Glen
Vegan intentional community in the Finger Lakes region. Offers an upper level of the home with studio apartment and private bath plus use of shared vegan kitchen. Pre approved dogs are welcome.
Montour Falls, New York, USA
Gaia House Retreat
Retreat on tranquil private grounds for small groups of up to 12 people. Located within Ananda Village, a spiritual community in the Sierra Nevada foothills.
Nevada City, California, USA
Flower Hill Farm Retreat
A 21-acre vegetarian getaway that's surrounded by nature.
Williamsburg, Massachusetts, USA
Fit Foods and Fun Vegan Retreat
Retreat by a vegan health coach, nutritional therapy chef, and fitness expert. Meals are vegan and activities are customized to your level of fitness and goals.
Grand Junction, Colorado, USA
Elements Retreat and B&B
Retreat and b&b offering plant-based meals for guests. Self-serve breakfast is included; gourmet breakfast served upon request for an extra fee.
Cedarville, Arkansas, USA
Dreamers Welcome
Boutique inn where a fully vegan breakfast is included in your stay. Or a special chef's breakfast (think whole grain peach fritters and fresh-pressed grapefruit juice) can be booked the day before to be enjoyed in-room or in the garden.
Wilmington, North Carolina, USA
Deer Run Bed and Breakfast
Oceanfront, certified green lodge for adults-only. Serves organic vegan breakfast to guests.
Big Pine Key, Florida, USA
Cottage House Bed & Breakfast
Guest suite in a 1930s countryside cottage situated 1 block from the river. Serves organic fruit and vegan snacks in the morning.
West Linn, Oregon, USA
Circle of Life Holistic Life Coaching
Holistic life coach offering 5-day, 3-day, and 1-day retreats for juice cleansing detoxification along with massage, aromatherapy, holistic life coaching and a program which takes place close to the ocean. Clients are served smoothies, juices, broth, herbal teas, and ozone water. Yoga, massage, colon hydrotherapy is included; accommodation is not.
Delray Beach, Florida, USA
Cedar House Inn & Yurts
Eco friendly bed and breakfast inn serving vegetarian breakfast, vegan with advanced notice. Adults only, no pets.
Dahlonega, Georgia, USA
Casita de Chuparosa
Vegan owned B&B style home stocked with vegan breakfast provisions like vegan butter and milk, coffee and tea. See webpage for details.
Abiquiu, New Mexico, USA
Casa Valentina
Bed and breakfast near Fairhaven District. Owner is an artist and raw food chef.
Bellingham, Washington, USA
Camp Rawnora
Lodging, raw food classes, and events. Will prepare meal for party of 10 or more with advance reservation. Located on a 350 acre retreat center and nature preserve.
Watervliet, Michigan, USA
Breitenbush Hot Springs Retreat Center
A vegetarian retreat center where meals are served buffet style 3 times daily. Offers day use as well.
Detroit, Oregon, USA
Blended Vegan
Hosts week-long all-inclusive vegan retreat surrounded by nature. Call for details.
Rutherfordton, North Carolina, USA
Black Sheep Inn
Bed and breakfast serving all-vegan breakfast to guests.
Hammondsport, New York, USA
Bellevue Bed and Breakfast
An elegant B&B in the heart of Old Town Cape Girardeau.
Cape Girardeau, Missouri, USA
Bella Green
European-style B&B tucked in nature, on a hilltop. Offers vegetarian, vegan, or semi-healthy traditional breakfast.
Pipe Creek, Texas, USA
Ash Street Inn
Bed & breakfast where the hosts are accommodating to vegan guests with full breakfast and small treats.
Manchester, New Hampshire, USA
Animal Place's Guesthouse
Sanctuary with a guest house for daily/weekly rentals, as well as themed weekend retreats. Self-catered kitchen and storage. *Guests are asked to bring only vegan food in respect of the animals.* Check its webpage for availability.
Grass Valley, California, USA